[KNOWLEDGE CENTER]
Finding solutions to your Pressroom problems, just got easier with access to our support materials, user guides and product literature.
The blade holders must be kept clean at all times – there should be no ink sedimentation between the blade and holder.
At all times, ensure the blade fits firmly without undulations.
Once the blade is mounted on the holder, the lamella should face upwards and be visible.
Always tighten the screws from the middle outwards – the distance between the support blade tip and blade holder should be about 10-20 mm.
The support blade should be clean and uniform, and mounted on top of the doctor blade.
To allow flexibility and proper lubrication, the thickness of the support blade should be a minimum of 0.5 mm - 0.6 mm approximately.
In order to provide more flexibility to the doctor blade at the cylinder ends, the edges of support blade should be tapered (as in fig.). This will help the blade from cutting at the cylinder ends and will enhance blade life as well as printing cylinder life.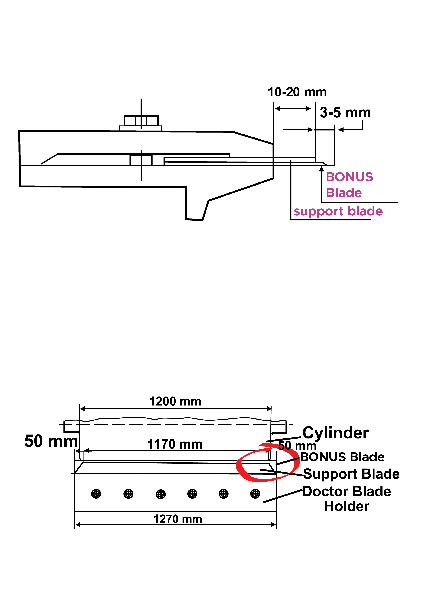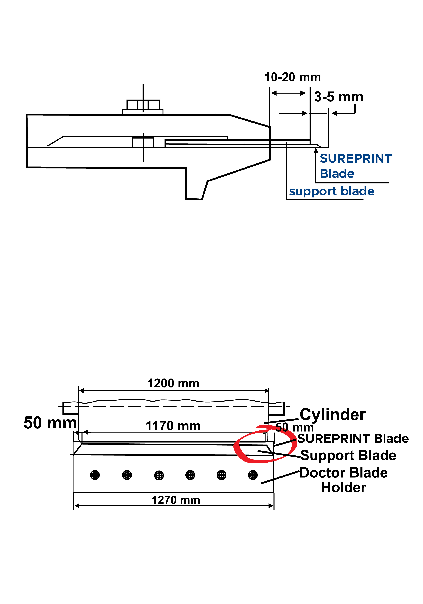 Ensure that the doctor blade chamber / holder is straight , clean and without damages , especially in the clamping area.
Make sure that the doctor blade is mounted straight and that no waviness in the blade is observed.
In case of a blade chamber, the lamella for both blades ( wiping as well as containment blade ) is facing inwards
Make sure that the blade chamber / holder is aligned to the anilox roll both vertically and horizontally.